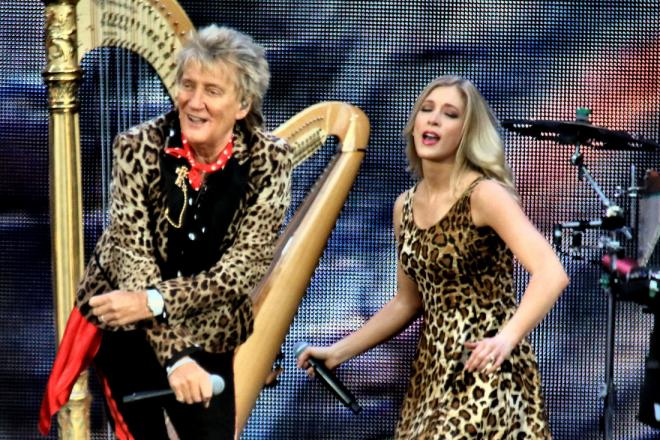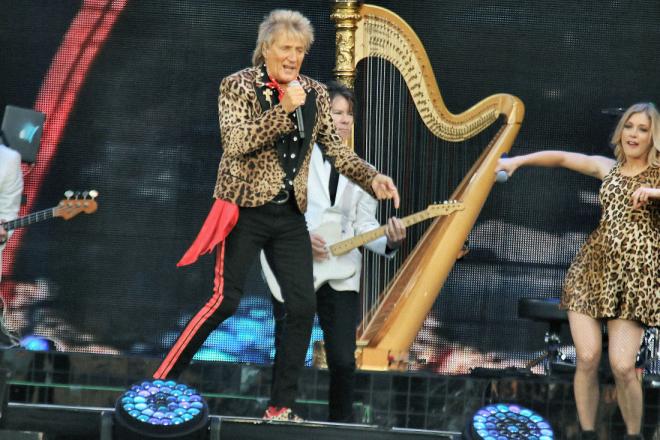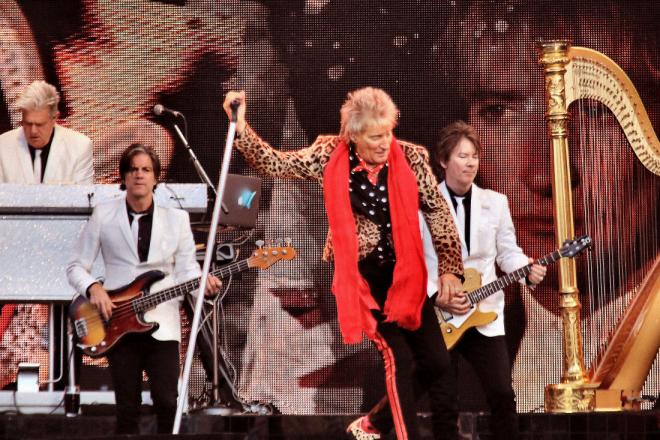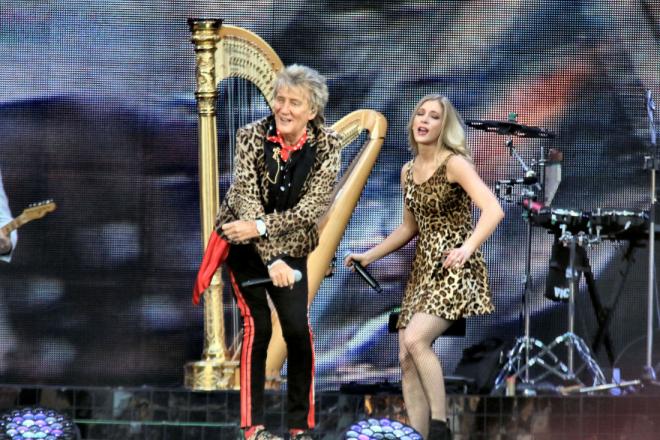 Well the sun gods shone on the Rod Stewart faithful tonight as it had rained all day long, and just before he took the stage to an expectant 20, 000 + crowd – yes he can still pull 'em in – it stopped and the sun came out, which made everyone happy. Not that they needed that as Sir Rodney at a certain age performed 25 songs over two hours, and he could have gone on all night for the crowd, who absolutely loved every minute.
Touring in support of his latest and I must say excellent album 'Blood Red Roses', although sticking to his fantastic back catalogue of classics, he genuinely seemed appreciative of the crowd's response and singing, sometimes letting them take over the lead. Occasionally coming out with wise cracks about football and the weird, "I had my hair cut today" statement, which he regularly repeated whilst laughing to himself. As for the gig, the sound was great, the band great, the leopard print dressed backing singers and musicians, well fantastic to be honest. Rod's voice is in very good shape, as highlighted by a pared down version of 'Have I Told You Lately'. It really shone through, hit after hit, 'Some Guys', 'Tonight's The Night', 'Forever Young', 'Baby Jane', 'I Don't Wanna Talk About It' and 'Sailing' sang with such gusto by the crowd, Rod stopped and grinned from ear to ear.
He gave a very touching heartfelt speech about the armed forces even more poignant coming a few days away from the 75th anniversary of D Day. Followed by 'Rhythm Of My Heart' with huge images of soldiers going over the top displayed on the impressive which was very emotive, before raising the tempo again with 'Maggie May', which Rod messed up some of the lyrics and found hilarious.
What an awesome night! On this display he could go on for many a year to come. Pole is back in Brum later this year, this time whatever the weather it won't matter. On a footnote, congratulations to the Molineux on a well organised event and thanks to Sarah from Rhodes Media for all her help.
Photos by Geoff Griffe
Review by Jennifer Griffe
The post Fishing rod Stewart – Molineux Stadium Wolverhampton – 08 June appeared first on Latest Music News + Gig Tickets From Get To The Front – Music News Magazine.