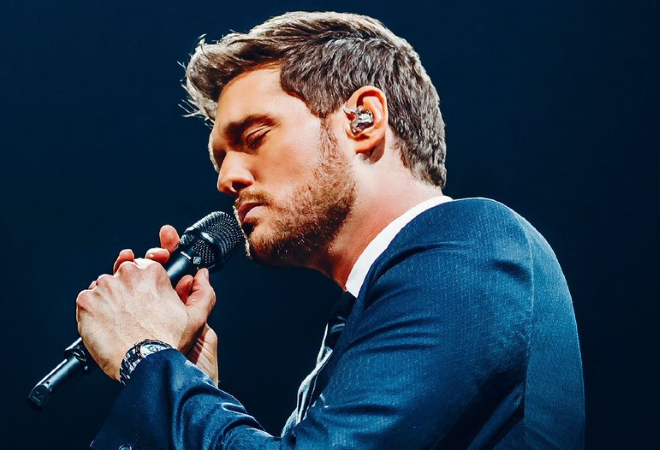 Michael Bublé has added extra dates to his 2019 arena run of shows following his current sold out tour.
An Evening With Jordan Bublé November/December Tour Dates:
Aberdeen Arena, 27 Nov
Newcastle Utilita Arena, 30
Liverpool M& S Bank Arena, 03 Dec
Nottingham Motorpoint Arena, 06
London THe O2, 09
Tickets on sale Friday (07 June) at 9am from AXS Ticketmaster
Michael Bublé is currently on tour in the UK in support of his 10th studio album 'Love', which is out now.
The Canadian jazz and big band singer-songwriter's new romantic record is set to feature his own unique take on timeless classics such as 'My Funny Valentine', 'La Vie En Rose', 'Help Me Make It Through The Night' and 'When I Fall In Love'. The album will also include Johan Carlsson co-write 'Love You Anymore' with backing vocals by Charlie Puth, alongside emotional track 'Forever Love', co-written by Bublé about being a dad and the vulnerability and strength that comes with unconditional love.
Bublé has sold more than 60 million albums since releasing his 2005 debut 'It's Time'. 'Love' will be the official follow-up to 2016s platinum selling 'Nobody But Me', which debuted at No. 2 in the charts.
Michael Bublé and his family have been through an emotional journey following his oldest son Noah's battle with cancer, which left the singer questioning his return to music. As his son's condition improved, the singer has returned to the studio and created his brand new album as a thank you to their fans for their support.
'Love' truly stands as a testament to the healing power of music. Bublé commented, "The truth is I needed to make this album. The truth is it was really therapeutic for me. I felt so comfortable. I mean, these songs, this genre, is the essence of me. It' s where I live, it' s where I' ve grown up… It fits me perfectly. It' s so natural. "
The post Michael Bublé 2019 Arena Tour – EXTRA DATES appeared first on Latest Music News + Gig Tickets From Get To The Front – Music News Magazine.